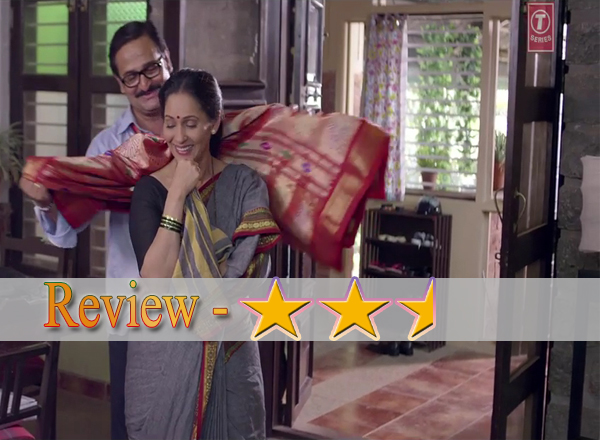 'Dhyanimani' Blossoms Through Reviews!
Ratings – 2.5/5
In 21st century is a woman being sterile still considered as a social stigma? Maybe…, but then would there be soo many flourishing fertility centres in towns? Women are born with nature's gift to reproduce and produce offsprings. It's one of the best phenomenon in one's life. But does failure to fulfill this make her less of a human? Why is it that she's demeaned and disrespected in the society and family?
Under such circumstances and pressure from the society she (Shalini – Bhave) has given birth to her child Mohit.
Her entire life started revolving around Mohit. Feeding him and watching him grow… apart from this she has forgotten everything going on around her. She's soo involved in motherhood that she has forgotten about her better half ( Sadabhau- Mahesh Manjrekar )
… And one fine day the dreaded happens ; Mohit turns into a spoilt brat due to her over pampering him. He falls prey of bad company. And he looses his life in a fight with his dad… This journey of Shalu , Sadanand and Mohit is heartbreaking. After their sons death Shalu and Sadanand Pathak come together as they were before his birth.
The incident that happened is an emotional trauma in Shalu's life.
Due to society's pressure on having kids ; what the female battles through has been portrayed by Chandrakant Kulkarni in Dhyanimani.
Till the interval the movie is well balanced and runs smoothly with Mohit's existence and their life around him. But after the interval his death gives the movie a sudden twist. Due to which a tension is seen in their lifestyle. The fact that Sadabhau accidentally murdered his son and Shalu's involvement in raising him.. just gets a bit too twisty and leaves the audience wondering why is everything falling apart soo soon? Shalu starts behaving like a psycho and she starts seeing him in everything.
Three out of four major characters deliver a good performance in the roles of Samir, Aparna and Sada. Although Aparna has a relatively smaller role that disappears after the first half, Mrunmayee Deshpande gives a memorable performance. Unfortunately, the central role of Shalu ( Ashvini Bhave) seems a bit off.
Everything goes soo fast that the movie derails and fails to put forward the central idea clearly. But in the end it's a wonder how it manages to deliver an unexpected ending. Considering the rest of the film, it's a good achievement.
---
Positive Points –
Strong acting performance by every involved actors.
Proper comment on social psychology.
---
Negative Points –
Failed to manage the time based placement of the movie from directorial end.
Wrong message about the Medical science, as blockage of Fallopian tube can be easily removed in these days.
Only one song.
---
Dhyanimani Marathi Movie Trailer –
---
Overall –
Overall this movie shows the phases of motherhood and the atrocities that a mother undergoes after loosing a kid. It has this meandering theme running throughout the film projected in different ways. Sometimes it is too complicated and twisted for the audience to understand.. but this movie does enough justice to the previous theatrical release.
---