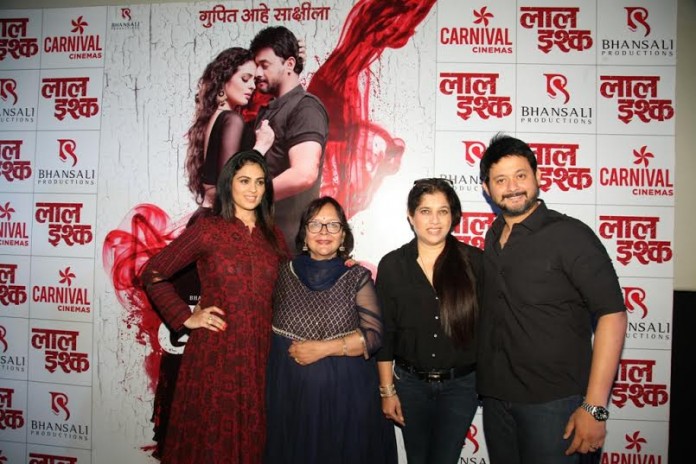 'Laal Ishq – Gupit Aahe Saakshila' Mystery To Unfold Soon
 Known for offering something new and unique to the audience, Sanjay Leela Bhansali taking a step forward is now ready to release his debut Marathi film 'Laal Ishq – Gupit Aahe Saakshila…'on 27th May 2016. Since its announcement, the movie is talk of the town with a rising excitement.
Looking at the enthusiasm of the marathi movie lovers, without waiting further Bhansali Productions launched its Digital Poster recently at Carnival Metro Cinemas. The viewers present during the launch witnessed amazing poster of actor Swwapnil Joshi and Bollywood actress Anjana Sukhani, in black, with a sparkling chemistry in them. The poster itself speaks romance and the touch of red reflects the mystery of Laal Ishq. The efforts taken by Swwapnil for his different look and Anjana's glamorous Marathi debut is very well painted in the poster.
The Grand Poster Launch event was executed in the presence of Swwapnil Joshi and Anjana Sukhani. The other ensemble artists Sneha Chavan, Jaywant Wadkar, Priya Berde, Piyush Ranade, Kamlesh Sawant, Milind Gawali, Samidha Guru, Uday Nene and Farzil Perdiwala were also present for the launch. Under the banner of Bhansali Productions, the whole story is brilliantly crafted by Director, Swapna Waghmare Joshi, and Written by Shirish Latkar, Produced by Sanjay Leela Bhansali and Co-produced by Shabinaa Khan. The music is manned by music director Amitraj and Nilesh Moharir.
The movie truly seems promising giving a new dimension to the Marathi film industry.
हि बातमी मराठी मध्ये वाचण्यासाठी येथे क्लिक करा
---