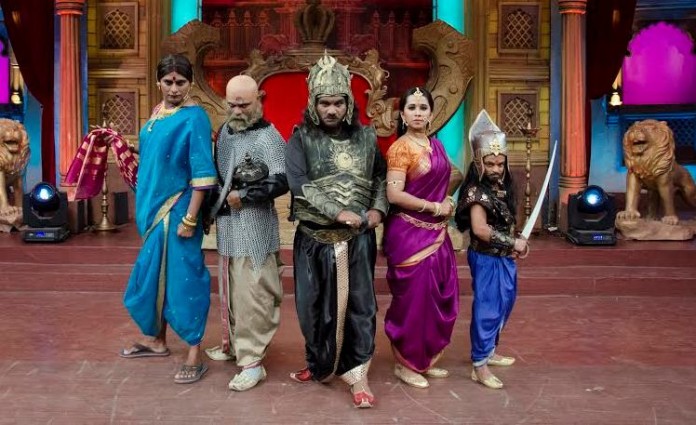 On the Sets of 'Chala Hava Yeu Dya' you'll see Baahubali's Look
On the sets of 'Chala Hava Yeu Dya' we never know what the people from Thukratwadi will be up to. Till now on this stage we have seen enacted scenes from 'Maherchi Saadi ' to 'Natsamrat', Sairat and from the tricolor of Hindi cinema, 'Dilwale Dulhania Le jayenge' to recent fame 'Dangal'. And now the audience will be able to experience biggest blockbuster from Indian cinema industry 'Baahubali 2' movie's Marathi version. On the coming Monday episode means on 12th June at 9:30pm on Zee Marathi to see this special skit.
'Baahubali' this movie has reached many heights. More discussed than the fame of Baahubali was the sequel 'Baahubali 2'. Use of VFX technology and eye pleasing scenery makes this movie special. Even now in movie theatres Baahubali is being praised. Taking the fame of 'Baahubali 2' into consideration the people from Thukratwadi took inspiration and made the movie 'Baahubali. In which Bhau Kadam will play the lead role of Bahubali, Devsena's role will be played by Shreya Bugade, Ballaldev will be played by Ankur, Shivagami will be played by Sagar karande, her father's role that is Bijaldev's role will be played by Bharat Ganeshpure and Kattapa's role will be played by Kushal Badrike.
The unique thing is that the way special effects have been used in the movie similarly special effects along with a dash of humour will be seen in this episode. Making a skit about a different movie like Baahubali 2 is also an art. That's why this Thukratwadi's Bahubali will be loved by the audience of 'Chala Hava Yeu Dya' too.
---
Photo Gallery –
---