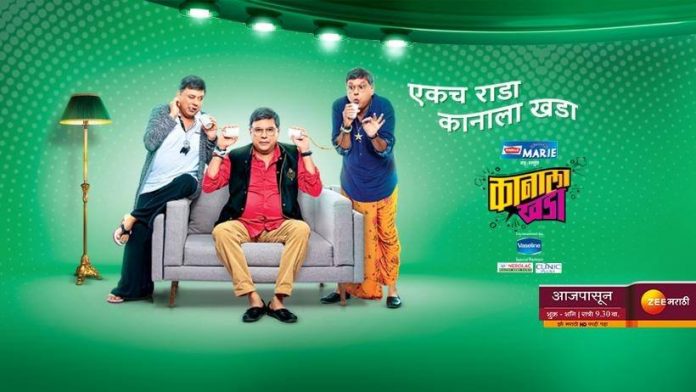 Kanala Khada | कानाला खडा Zee Marathi's Chat Show
Anchor – Sanjay Mone
Channel – Zee Marathi
Show Timing – Friday and Saturday at 09:30PM
---
About Show –
There has been a lot of buzz about the forthcoming chat show hosted by Sanjay Mone called 'Kanala Khada' where in he will chat with leading Marathi stars and try to get to know more about them and their lives and their interesting tid-bits of their life and interesting trivia about them which will fascinate their fans.
The show starts on 30 November, Friday and Saturday on ZEE Marathi at 9.30 pm. The first guest on the show is the glamorous star Saie Tamhankar who will share her memories with Sanjay Mone and tell us about her super successful life in Marathi cinema and Hindi cinema and as well as Tamil cinema.
She has a lot of interesting tales to share with her fans on the show like being the first Marathi film star to wear a bikini and the uproar it raised in the industry and among her relatives and friends and her journey from Sangli to Silverscreen which she had a heart to heart talk with Sanjay Mone.
She confessed her love for her mother and that she will always keep her mother happy. To know more, watch 'Kanala Khada' on ZEE MARATHI every Friday and Satuurday at 9.30 pm on ZEE MARATHI.
---
Cloud Tags –
kanala khada marathi chat show on zee marathi, kaanala khada zee marathi serial, kanala khada marathi serial entry process address,
---