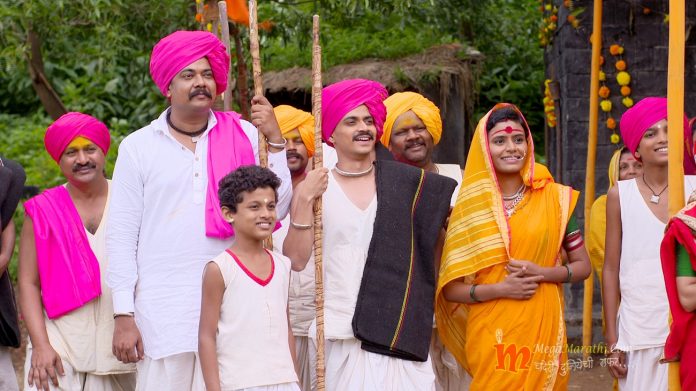 For devotees of Saint Shri Balumama Maharaj there is good news. Based on Saint Balu Mama's life a new Marathi serial, named "Balumamachya Navan Changbhala" has started on Colors Marathi.
The amazing life journey of Saint Balumama is capture amazingly well. This has created lot of excitement in viewers, as the minute details of the eighteen hundred century era is captured and presented with keen eye. Cloths, ornaments nothing is off limits and nothing is overlooked. Village set of the era takes viewers back to 18th century.
In the series we get to see life journey of Saint Balumama performed by Samartha, Sundara (Balumama's Mother) by Ankita, Mayappa (Balumama's Father) and Sarpanch – Panch Bai, Devrushi are all remarkable performances.
Actors, storyline and presentation, and title song is well received by viewers. For Title song alone there were seventy performers who have performed. Not only that the Feta (Saint Balumama's Cap) was specially ordered from Hyderabad. All these minute detail work has made this serial an amazing art work.
Due to this serial, lot of accepts of Saint Balumama's life, and remarkable journey of this great man can be seen by not only viewers but also by his devotees. In upcoming episodes we will get to see lot of ups and downs, of Saint Balumama's childhood.
Love and unbreakable relationship between Saint Balumama and his mother…the trust Sundara Tai has on Saint Balumama and reciprocation of the same by Saint Balumama, is performed so well. One of the many things, devotees of Saint Balumama, who adored the relationship between Saint Balumama and his mother.
---