Grandpa and grandson relationship is just awesome. Grandpa has always been a first friend for any child and most often children cherish strong bonds with the friends made early in their life. On the other hand, for an elderly person, grandson is his last friend he can have. Zee Studios and Subhodh Bhave are bringing a story based on relationship of 'Tatya' and 'Vilas', a granpa-grandson duo, titled- 'Pusphak Viman' on 3rd August 2018. This year Zee Studios had brought some awesome content through films such as 'Yere yere paisa', 'Gulabjaam', 'Nude'. Now, this time around Subodh Bhave has written a fresh story for a movie which has been directed by Vaibhav Chinchalkar and will be presented by Zee Studios. This movie will provide opportunity for audience to witness actor Mohan Joshi and Subhodh Bhave in same frame for the first time. Also, actor Gauri Kiran will have her debut in marathi film industry. Recently, the trailer of film was launched in a five-star hotel in presence of complete cast, and key executives of Zee Studios which include Sharik Patel and Mangesh Kulkarni.
The movie revolves around a character named Vishnudas Wani aka 'Tatya'. Tatya lives in Jalgaon and has crossed 83 years of age. He has spent his entire life doing kirtan, bhajan, and farming. Tatya is a truly fond of a tale popularly known a 'Vaikunth Gaman' which describes how Saint Tukaram left this material world in pursuit of divine happiness. The man has a grandson who insists him to visit Mumbai and he does so to keep grandson happy. However, after witnessing the situation in the city, he gets quite disappointed and wanted to leave the city. While he is contemplating to leave the city, suddenly an aeroplane flies past him which stuns him completely. For his life, Tatya has told people about Saint Tukaram's travel by 'Pushpak' and the incidence of aeroplane passing changes his life completely. However, this small instance creates ripples in small his innocent world and this all has been aptly depicted in the movie 'Pusphak Viman'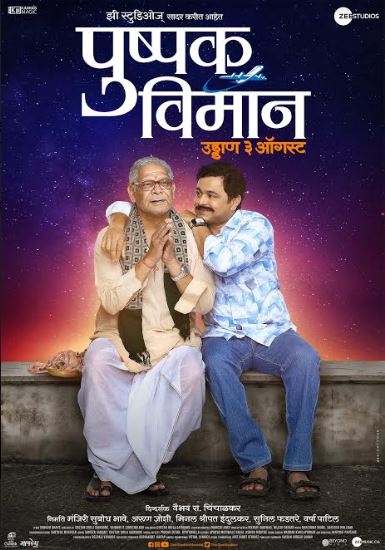 Manjiri Subhodh Bhave, Arun Joshi, Minal Shripad Indulkar, Sunil Phadtare, and Varsha Patil are producers and Zee Studios will present this movie. Chetan Saidane has penned the dialogues and screenplay while the story has been written by versatile actor Subhodh Bhave. The cinema has been directed by Vaibhav Chinchalkar and editing has accomplished by Ashish Mhatre and Apurva Motiwale Sahay. Mahesh Aane, national awardee, has captured the fast-paced world of Mumbai through his camera. Art direction was in the able hands of Santosh Futane while the background score has been created by Santosh Mulekar.
Pushpak Viman Marathi Movie Trailer –
The movie has in all 6 songs composed by Narendra Bhide and Santosh Mulekar and sung by Shaunak Abhisheki, Anand Bhate, Jayteerth Mevundi, Vinay Mandke, and Nakash Azeez. The lyrics are written by Sameer Samant and Chetan Saindane. Ratnakant Jagtap has overseen the responsibility of executive producer. The movie has a strong starcast which include Mohan Joshi, Subodh Bhave, Gauri Kiran, and Suyash Zunzurke and there is also a special cameo by Rahul Deshpande.
---