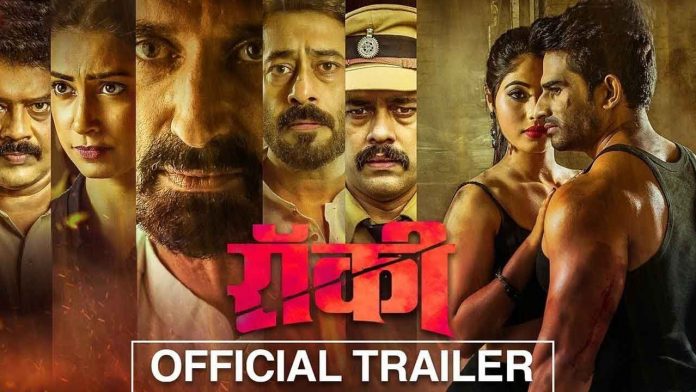 It is said that if you can't destroy fire, debt, disease and your enemy at the right time then it is likely that it will grip you and relapse on you as an individual or on your family or the love of your life and now comes the dashing 'Rocky' who is all set to destroy his enemy will be meeting you in the Marathi film 'Rocky'very soon. Produced by Paperdoll Entertainment and Seven Seas and Dream Weaver Productions 'Rocky's exciting trailer was launched at the hands of eminent Hindi film choreographer Ahmed Khan recently.
n the screen 'Rocky' will prove to be an one of its kind action thriller in Marathi cinema.  After the trailer was launched everyone present was curious to know who the six pack hunky guy was on the poster of the film.Now it can be revealed that the action man with rippling muscles is newbie Sandeep Salve. He may be rugged looking but he has a chocolate  face too. Sandeep said on the occasion, " I am coming in front of the Marathi audiences with the central character in 'Rocky' and I am very lucky to get such an action packed role in my debut film and I am the happiest and satisfied to get such a role so early in my career". Rahul Dev, the Hindi and South films villain said on the occasion that the film full of action , emotion, drama and dance will be definitely appreciated by the audiences.
The assistant director of Baaghi-2, Adnan A Sheikh  who directs 'Rocky' said on the occasion that he was fortunate to get such a good film like Rocky in his first Marathi film . The brave protagonist who fights for his family and his love will be definitely appreciated by the audiences.
The film heralds the debut of Sandeep Salve and Akshaya Hindalkar along with a veteran cast of Ashok Shinde, Pradeep Velankar, Yatin Karyekar, Kranti Redkar, Ganesh Yadav, Vineet Sharma, Swapnil Rajshekhar, Deepti Bhagwat, and Hindi ace villain Rahul Dev will be in a special appearance in the film.  The producers of the film are Prashant Tripathi, Manesh Desai, Nitin Shilkar, Himanshu Ashar, and the director is Adnan A Sheikh. The story screenplay is bby Adnan A Sheikh and Vihar Ghag and dialogues are by Aditya Halbe . The DOP is Farooq Khan.  The lyrics are by Sandeep Cholkar,, Rahul Raut, Jay Atre,, Sachin Pathak, Sandeep  Patil and the music is by Sameer Saptiskar, and Waseem Sadani. The playback singers are the eminent Anand Shinde, Avdhoot Gupte, Swapnil Bandodkar, Javed Ali,, Palak Mucchal, Geet Sagar, Jyotika Tangri,. The executive producer is Suneeta Tripathi. The film releases on March 8.
---