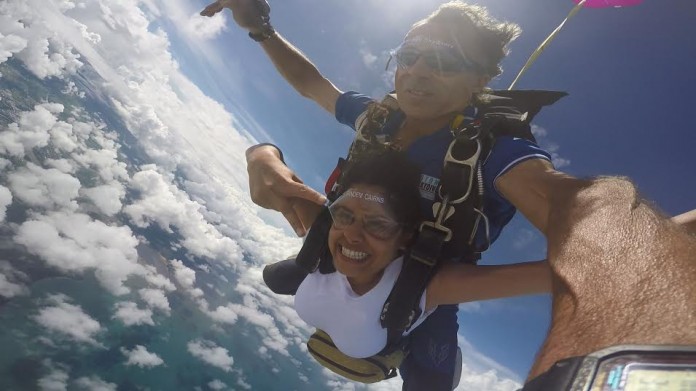 M – Town Diva Sai completely enjoyed her first electrifying experience of skydiving
You have seen her flying high with immense love, fame, success, accolades and what not but now she ruled over the sky too. Not in an aircraft, but jumping off from a plane and flying in the sky without wings. Yes, flaunting her adventurous side, the M town's glamorous diva Sai Tamhankar could not restrained in experiencing the thrill of Skydiving.
Recently, all the Marathi stars happened to visit Sydney for MAAI award ceremony. The Diva enjoyed her extended holiday and inspired by the celebrity couple Adinath and Urmila, Sai also experienced the thrill of skydiving at The Great Barrier Reef. The pretty lady seems delicate darling but she is not behind in showing off her daredevil side. Sharing her excitement about it, she said, "Thrills totally attract me! Hence skydiving and thankfully I have friends who encourage and support this dhadsivrutti, I'm just glad I did it, the moment just before jumping off the plane is unbelievable you instantly feel rooted. One thing about foreign countries that I totally adore that they treat their environment with at most care and treat their roads like homes, this approach and discipline is fascinating . I'm happy that I had such an amazing experience and equally happy to be back safe sound and fresh back home called my lovely India!!!"
The glam doll dared to jump off from 15,000ft high and that experience was out of the world she adds. The dashing girl successfully face up to new challenges and strive to do her best in her real life too. We wish that the diva fly even higher and rule over the entire world.
हि बातमी मराठी मध्ये वाचण्यासाठी येथे क्लिक करा —-> Click Here

---
Photo Gallery Of Sai Tamhakar Sky Diving :
---