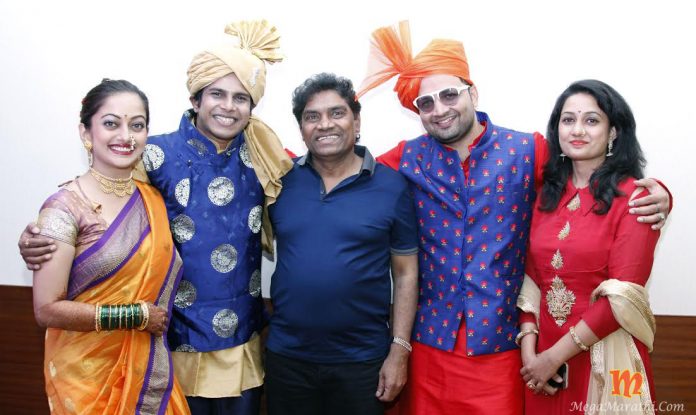 'Mala Lagin Karaych' Music Album Released.
Is Mansi Naik getting married? Is Mansi Naik getting tied the wedding knot? Whom is Mansi Naik getting married to? Such rumors are flying in the entertainment industry. Mansi's will to get married has been exposed at 'Mala Lagin Karaych' music album release ceremony. Nanubhai Jaysingh's 'video palace' presenting 'Mala Lagin Karaych' this exhilarating music album's production enticed an unique super hit promotion funda of Mansi's wedding gave this song a publicity even before it was released. For the release of the song their entire team was in full wedding theme dress.
The highlight of this video is the coming together of ' dancing queen' Manasi Naik along with 'comedy king' Johnny Lever and 'DID' fame Siddhesh Pai. Apart from that it's Johnny Lever's first time to sing the first paragraph in Marathi Rap style. Getting all three of them together and creating a fusion of marathi and western music is something new that has been tried in this video. 'Video palace' presenting 'Mala Lagin Karaych' album's production, direction and choreography has been taken care of by Siddhesh Pai. The best part of this video is Mansi Naik's dance along with Johnny Lever and Siddhesh there are 12 other dancers who have not only given a rocking performance, but also designed every look in the song.
Roshni Bhalwankar and Manvel Gaikwad are the lyricists for the song and Swaroop Bhalwankar is the music composer and Adarsh Shinde along with Swaroop Bhalwankar have brought the song to life via their powerful and melodious voices. This album's photography has been done by Kiran Gunjal and costumes have been by Dipesh Hingu and art-direction has been done by Pranay and Preetesh. Getting an opportunity to work with famous comedian Johnny Lever has brought a lot of joy, says Mansi Naik. Johnny Lever too mentioned that he had a lot of fun during shooting. Siddharth Pai too thanks Nanubhai Jaysingh for making such an energetic song.
In upcoming wedding ceremonies 'Mala Lagin Karaych' song will rock many dance floors.
---