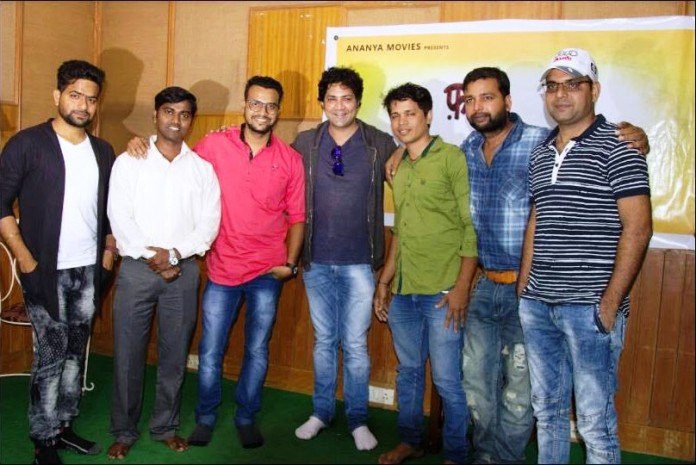 Nowadays Marathi cinema tries to put forth different different topics. The audience too accept these stories happily. Efforts are being made by handling new topics to provide pure entertainment to the audience. Highly educated Kishor Sonawne and Ankush Harkal these two youngsters  coming together with Ananya movies productions have produced this movie. 'Fakta Ekdach' movie directed by Vinay Sandilya recently celebrated its opening with a recording of a love song sung by a well known Bollywood singer Aaman Trikha.
Aaman Trikha said that it's a very beautiful song. Such songs are hard to get and when I get them I give it my best. This song isn't only a romantic song it'll be the first Marathi love anthem, Because it will be a dedication of everyone in love to their loved one. A guy in love is explaining his feelings to the girl he loves via this song. A beautiful message of love is given in the song. Till now I have sung many Hindi songs but singing this Marathi song gave me immense happiness. The lyrics have been written by Vijay Gamare and the music has been given by Mahesh- Rakesh.
Director Vinay Sandilya when asked about the movie says, this is my first marathi cinema. I was born in Mumbai soo in a way I am Marathi. Before this I have done Bhojpuri and Nepali cinemas. I felt like I should direct this movie in Marathi soo I made my debut in it. About the story of the movie he says that, there are many things in our life which we want to try at least once such is the story of this movie 'Fatka Ekdach'. We have to do things in life which we don't intend to do too sometimes, on such concept this movie is based.
The movie has a star cast of Aniket Vishwasrao, Kamlesh Sawant, Arun Nalawade, Jaidev Nair, Sameer Khandekar, Jayvant Bhalekar, Dr. Vilas Ujawne, Omkar Sonawale, Akanksha Jadhav and Ankush Harkal. Kishor Sonavane and Ankush Harkal wanted to do something new hence they have produced this movie.
---