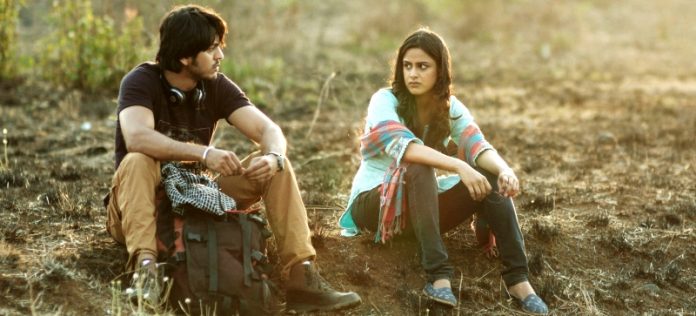 Lalit Prabhakar & Neha Mahajan's new movie 'TTMM' would soon hit the Big Screen.
Television star Lalit Prabhakar who has huge fan following and has won hearts of millions of girls is now going to hit the big screen, through his upcoming Marathi film 'TTMM'. Lalit's character 'Aditya', has made a special place in each persons heart through his serial 'Julun Yeti Reshim Gathi'. And this image of a cute, ideal & obedient son got a different shade when Lalit was seen playing the character of "Kabir' in 'Dil Dosti Duniyadari'. Neha Mahajan is a versatile actor. She has played remarkable characters in many Marathi films. Also she has done many films in various languages.
This fresh couple would be seen together in 'TTMM' film produced under the banner of Vaishali Entertainment. Dr. Santosh Uttam Sawane is the producer of the film.Whole team is a new team, a group of all youngsters worked well for the entire process. Dr Santosh Sawane's motivation and trust in his Team made it a peaceful and worthy journey for the entire team.
Kuldip Jadhav has made his debut as a Director through this film.Tejpal Wagh is the Story, Screenplay and Dialogue Writer for this film. Pankaj Padghan a well known music composer in Marathi Industry has composed all the songs of the film. Mayur Hardas is the Cinematographer, Editor and Creative Producer of this film. Niraj Valsangkar and Pratik Joshi are Executive Producers, and Gaurav Gogavle and Tejas Gogavle are Art directors, and Heathal Chaudhry is the Costume designer.
The star cast of the film is a bunch all known great actors from Marathi Industry. Along with Lalit and Neha, you will get to see Vidyadhar Joshi, Satish Pulekar, Savita Parbhune, Seema Deshmukh, Bharat Ganeshpure, Sagar Karande, Sharvari Lohakare, Pushkaraj Chirputkar and Pushkar Lonarkar all these talented faces would be seen in this film. Songs written by Guru Thakur, Kshitij Patwardhan and Omkar Dutt would soon be released, and audience would surely enjoy them.
In our daily lives, almost all are aware of the meaning of 'TTMM'. But indeed there are many shades behind this small word 'TTMM' and we are sure you would enjoy this journey of the young couple and their families, through this film.
हि बातमी मराठी मध्ये वाचण्यासाठी येथे क्लिक करा ….
---