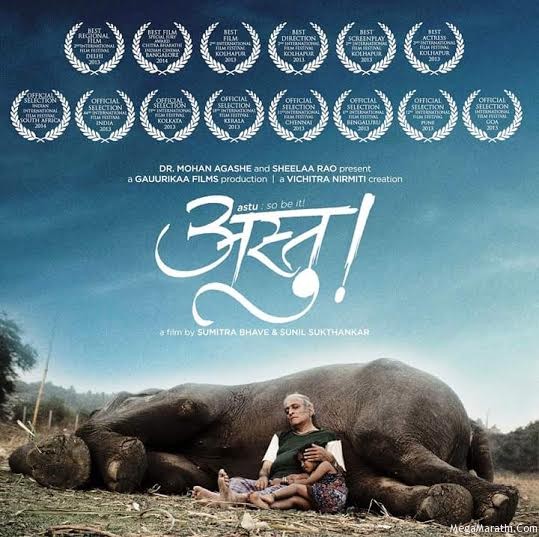 'Astu' first Marathi Movie to release with the support of 'crowd funding'!!
Producers of 'Astu' call common people for help!!
Crowd Funding supports 'Astu'!!
Now- a-days Marathi film industry has become the talk of the world. Marathi film has come out of the typical frame. When Marathi movies based on new topics ,new content, new style  are released ,they have proved that in contents ,they are very rich.
The film which has been awarded National honours as well as International Honours  and which has been won appreciation of judges is 'Astu'.
This film is directed by Sumitra Bhawe and Sunil Sukathankar . It is produced by Sheela Rao ( Gaurika films) and Dr. Mohan Agashe. The film has handelled the story of one retired officer who is a patient of alzyamers. The starcast of the film includes the eminent personalities like Dr. Mohan Agashe ,Amruta Subhash ,Milind Soman ,Devika Daftardar , Irawati Harshe ,Nachiket Purnapatre.
Before some months ago , 'Astu' was released only in Pune city due to lack of sufficient finance. But in order to reach to more and more people ,the film producers have chosen a new alternative of crowd funding through the medium of  'catapult'. According to Sheela Rao ,Mr Satish Kataria form 'catapult'has taken initiative for this purpose.
The process through which funds are collected from common people for producing or releasing the film is called 'crowd funding'. This concept is gaining popularity and success  in India also now a days. This concept is also called as 'co- funding'.This concept has given support to those film producers who have lack of funds for producing or releasing films. Till now ,so many Tamil, Malyalam ,kannad films as well as Rajat Kapur's 'Bheja fry' film were released with the help of concept of 'crowd funding' through the medium of 'catapult'. Kannada film 'Lucia' was also released through crowd funding and it had become superhit. Marathi film industry has taken first step for releasing 'Astu' with the support of crowd funding.
You can log in at  HYPERLINK "http://www.catapooolt.com" www.catapooolt.com and give your financial support from 500 rs to even 1 lakh Rs. for releasing this film .
---
Posters :

---