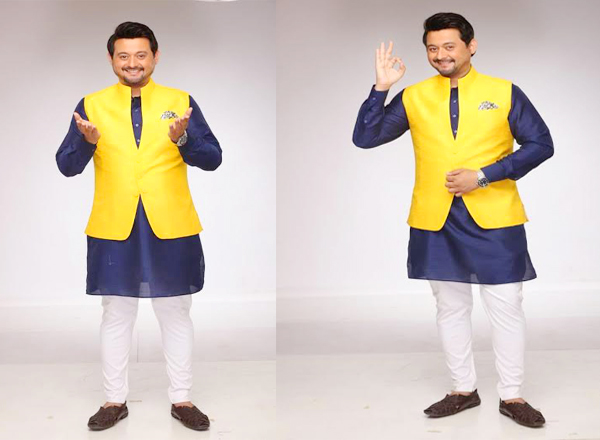 A candid chat with the heartthrob Swwapnil Joshi, popularly known as SRK of Marathi cinema. The actor, who played the role of Krishna in his teens, went on to rule many Marathi movies as a romantic hero with class, finesse and elegance. He takes us through his interesting journey and his maiden TV production 'Nakalat Saare Ghadale' coming up on Star Pravah from 27th November onwards at 7:30 p.m.
---
Interview with Swwapnil Joshi (Producer of upcoming serial Nakalat Saare Ghadale on Star Pravah)
You really became a popularname through Ramanand Sagar's mytho serial 'Shri Krishna'. This year you complete almost 3 decades in the entertainment industry. How was your journey?
My journey started as Luv-Kush in Uttar Ramayan and then Shri Krishna happened and everything changed. Since then 28 years have simply whizzed past. But it feels like I have started my career yesterday. The beauty of our industry is that we get to experience new roles, new characters, new challenges almost daily. Every day feels like a new fresh day at work. But there is also tinge of anxiety, nervousness. We have to first visualize ourselves in a particular character before we present it to the audience. So it doesn't feel like I have been working for almost 3 decades. 'It feels like I have just started'
---
Please highlight the key turning points of your career.
I have had a few turning points in my career. I was just 12 years old when I did Ramayan. Shri Krishna was definitely my first turning point after which,I became a household name. My second turning point was the non-fiction show Comedy Circus. The third turning point in my career was the first Marathi blockbuster 'Duniyadari'. Although set inthe seventies; Duniyadari's storystill remains relevant to youth of today.
---
Tell us about your most memorable roles. Also about your dream role.
There are four roles which are very close to my heart. In fact, it's really difficult to choose from them. Shri Krishna's role was really special as you don't get to impersonate God every day. This role not only touched hearts of millions of viewers across the country but also reached globally. Even today many people recognize me as Krishna. My most memorable role is definitely Shri Krishna.
Character Gautam from Mumbai Pune Mumbai is among my memorable and favorite roles. Shreyas from Duniyadari also remains to be my favorite. Actually, Ghana from Eka Lagnachi Dusri Goshta and Gautamhave very similar traits. These three are my favorite Marathi characters.
My dream role is always the next project that I will be working on.
---
Please share aninteresting incident from your life.
I remember an incident when Duniyadari was running successfully in theatres. At that time I got a call from a theatre owner. He requested me, "Will you please get me two tickets for Duniyadari?'. I was taken aback and I told him, 'You have your own theatre, how can I give you tickets!". He said, "I called you to inform you that despite having my own theatre, I am having tough time getting even two tickets!"Probably, he didn't literally mean it, but I believe it was a huge compliment. I was really amazed about how big my cinema turned out to be. I will always cherish this incident in my life.
---
After successful stints in acting, you produced a few Marathi Films.How is the experience of producing your first ever TV serial 'Nakalat Saare Ghadale' on Star Pravah?
'Nakalat Saare Ghadale' is the hardwork of 3 people, Arjun Singh Baran, Kartik Nishandar and me. My heartfelt thanks to Star Pravahfor trusting a new production house to create such a big and prestigious show. So after a few films, we will be now producing our first television serial. It's also the love, trust and confidence by our well-wishers that is encouraging us to take baby steps in TV production. I have been a part of TV industry since I was 12 and currently I am enjoying the process of creating a TV show. Thanks to this daily soap that I will have this pleasure daily.
---
Tell us about 'Nakalat Saare Ghadale'. Why did you choose to partner Star Pravah for broadcast?
'Nakalat Saare Ghadale' is a journey of a female protagonist from being single to a caring & loving step-mother to a little girl. Inthe backdrop, it's also a tale of cultural differences between two distinct Maharashtrian families based in Kolhapur. It's a story about changing relationships in modern times. In this show, there is drama, there are emotions, there are lot of twists and turns. Our show is a brilliant attempt of looking at relationships from a different yet beautiful perspective. That's why I am highly excited about this project.
Star Pravah always endeavors to create rich content that is innovative yet rooted. Some of the cult shows such as Devyani and Pudhcha Paul which have set a benchmark in Marathi television, have been delivered by Star Pravah. As a production house,I really hope that with Nakalat Saare Ghadale, we will be able to live up to the grandeur, goodwill and reputation of Star Pravah.
---
What are the major differences between producing a film versus producing a serial?
Well, there are lot of differences. For a film, there is beginning, middle and end. You start a film 6 months before the actual shoot, do the pre-production, complete shoot for 45-50 days and then next 45-60 days of post-production and promotion and the film is over. So maximum time span of a movie is about an year from inception to closure. Then the movie meets its fate on the box office. But for a TV show putting one quality episode on-air each day on a consistent basis is a humongous but interesting task. A film and a serial are as different as chalk and cheese.
---
What kind of initial reactions 'Nakalat Saare Ghadale' is getting?
Well, the reactions are absolutely awesome and overwhelming. The audiences are stunned to say the least! When our first promo went on-air, we were extremely excited but also nervous. Star Pravah Communications did a fantastic job with the promo because people are loving it, appreciating the characters, their nuances, the little girl Pari who has already become a rage even before the launch. Take my wordPari is going to be a big hit. I hope in the days to come we will be able to fascinate the TV audience in terms of fabulous content. And as we approach the launch date i.e. 27th November, the expectations are going to be sky high which will drive us to excel further and also put us in responsible position, where we have to deliver only the best.
---
What is your advice to younger generation trying to get into entertainment industry?
There is only one advice. There is absolutely NO replacement to hard work. So work hard and let your talent do the remaining job.
---
Tell us about your upcoming projects.
As an actor, I will be doing two films. One film, which I am also co-producing, is still untitled. I and Sachinji (Pilgaonkar) will share the screen in an interesting father-son relationship. And the second film is the highly prestigious Mumbai Pune Mumbai (MPM) 3. It's the first ever Marathi film to have a part three. It's a proud moment not just for MPM team but for the entire Marathi film fraternity. I am really really excited about this hat trick! But before that I am looking forward to the launch of my maiden TV show on Star Pravah 'Nakalat Saare Ghadale'.
---